There is a  new documentary coming out that highlights the challenges of families and individuals with schizophrenia and at the same time is targeted at reducing stigma in the people who don't have a good understanding of psychosis.  From the trailer it looks to be a very good film.  You can watch the trailer now (below) but the formal launch of the video is not anticipated until this summer.  A listing of some early screenings is below – try to see if if one is in your area.  We'll cover this new film in more depth when we get more information.  In the meantime, we encourage you to watch the 3 minute trailer below, and follow the film on Facebook:  https://www.facebook.com/voicesdocumentary
As the documentary's website notes:
"In the 1950s, inhumane treatment in mental asylums, the advent of promising new medications and increasing budgetary concerns led to the widespread deinstitutionalization and release of over half a million people from psychiatric hospitals around the United States.

The hope was that community mental health clinics would be able to provide care for these vulnerable individuals. However, promised community resources never materialized and were vastly insufficient to meet the needs of this population, particularly those with more severe conditions such as psychosis.

As mental health budgets continue to be cut and the stigma of mental illness continues to be pervasive, these individuals and their stories are increasingly marginalized."
The new "Voices" documentary film tells the personal stories of three people from very different backgrounds, all of whom  are connected by their experiences with psychotic mental illness. In this state in which reality is bendable and  often frightening, the resulting behaviors and its life impact are often misunderstood and  incomprehensible to others. As a result, the human side of the psychotic experience is often lost…
The Personal Stories
Sharon:  Born into a privileged family in Vietnam and pursuing her education in Switzerland, Sharon was a beautiful,  humble woman with a gentle nature. After meeting her husband abroad, she immigrated to California and  began to hear derogatory voices and show signs of paranoia and depression. As a newly arrived immigrant,  she was diagnosed with schizophrenia. Struggling to support her in any way they could, her family's  unbreakable bond and loving perseverance were tested in their long journey to find her effective treatment.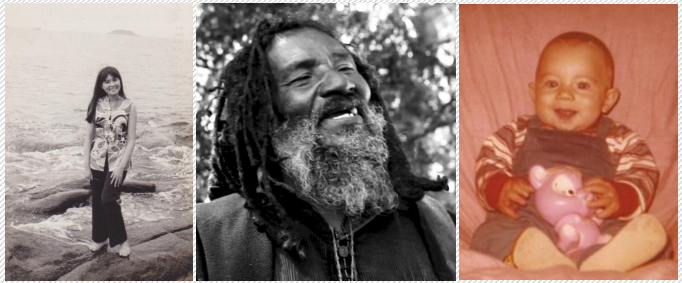 Thomas:  Thomas is an active member of his community, well-likedand frequently greeted by those he walks by in his  neighborhood. Kind and cheerful, he enjoys Chinese food and going to church. He has also been homeless and  living on the streets of San Francisco for the past 15 years. Originally from Ohio, he is no longer in contact  with any of his family, and though he seems gregarious and happy in many respects, he is also isolated and  distressed in other ways. Other than the warmhearted people who leave food next to his shopping cart in the  mornings, he is not currently connected with any community services.
Aaron:  Aaron was an active boy growing up, following in his father's footsteps and playing baseball throughout his  childhood. After he was arrested for unusual behavior in his late teens, he slowly isolated himself from his  family and friends, and became fixated on the belief that there was an impending alien invasion. As his  thoughts became more and more troubling, he ended up living in the woods of Northern California while his  father tried unsuccessfully to reach out for help and to avoid the tragedy that would eventually make  national headlines.
Schizophrenia and Psychosis
Psychosis causes some individuals to reach for care and connectedness with others, while other people tend  to isolate and fall through the cracks. The narratives of this latter group are frequently overlooked and are  the focus of this film. By highlighting human aspects of psychosis while also addressing the controversial  issue of violence and untreated severe mental illness, Voices captures the extraordinary and nuanced  backstory to experiences that few others understand, and offers a uniquely intimate, honest and raw glimpse  of lives which are frequently confined to the shadows of society
Background to the Movie:
The Voices documentary began as an idea during residency training for producers, Gary Tsai and Rachel Lapidus. As  psychiatrists, they were discussing the powerful personal stories they were hearing every day, and the  impact that they can have on addressing stigma in mental health. As the son of a mother with schizophrenia,  Gary experienced the demoralizing effects of stigma firsthand and wanted to find a way to translate his  passion for advocacy to real societal change. After realizing that his childhood friend, Hiroshi Hara, was a  filmmaker, he saw the foundation of a compelling documentary and Voices was born.
The crew began a two-year process of connecting with a diverse group of individuals in the community in  order to identify our potential cast. Talking to hundreds of people living on the streets and in care homes in  the San Francisco Bay Area, as well as a number of mental health advocates, they stumbled upon three  remarkable stories, each bringing its own inspiring narrative to the film.
Upcoming Screenings:
California Psychiatric Association, Annual Conference- Yosemite
Friday, September 19, 2014;  7pm – 9pm
Yosemite- Tenaya Lodge
Institute of Psychiatric Services- San Francisco
Thursday, Oct 30, 2014;  1:30pm – 3pm
SF Marriott Marquis, Pacific Suite J, 4th Floor
ANTICIPATED Formal Release:  Summer 2014